Bishop's Message



Alternate Menu
Bishop's Message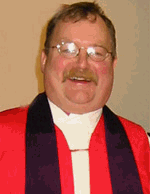 A Christmas Greeting to the Church from the Bishop of Yukon - December 7, 2016
Dear Friends:
As I write this, two things make me think about hospitality. First, we celebrated St. Nicholas Day on Dec. 6th. As I read some of the history, legends, stories of St Nicholas I was drawn to his generosity, his concern for the poor, his desire to help those he served to have some sort of peace and normalcy in their lives. Second, we had a friend who came up to see Rev Bert Chestnut in Old Crow. Together they stayed a couple of days in Whitehorse before going to Old Crow and then on his return trip he spent a night with us and we took him to the airport. We did what we thought was normal to be hospitable to a visitor. He spent all sort of time exclaiming how hospitable we were and how hospitable the people of the Yukon are. Something we thought was normal, he thought was extraordinary. This got me thinking how, as a church, we have often neglected to be hospitable to the stranger, our neighbour and to each other. I saw this at General Synod when the inhospitable divisiveness brought tears of shame and sadness to my eyes and heart. As individuals and a church, we have not been hospitable even to our own church family. We have sued each other, we have called each other names, we have accused each other of lying, we have shown hate and even accused each other of being non-Christian. We have not been hospitable or even treated each other with the respect that any human being deserves.
I begin to realize how Joseph must have felt when he and his very pregnant wife were rejected and turned away from Inn after Inn, no home would make room for them, not even Joseph's relatives made room (and there must have been some). No one showed hospitality to them and as a result, the Son of God was born in a barn, in a stable and lain in a manger, the place where the cows eat from.
I rejoice that despite the treatment we gave Him, Jesus showed only loving hospitality to us. We rejected him over and over, yet He showed the greatest hospitality to us by opening up heaven to us and even died to make a way possible for us to enter. Great love, great hospitality.
This Christmas, as we celebrate the birth of the Son of God, the King of Kings, the Saviour of the World, let us with repentant hearts commit ourselves again to the service of our Lord. Let us reach out to each other again in love and hospitality. In the early Church, one of the characteristics that was attributed to them, was "O how they loved each other." This Christmas may we so commit ourselves to His service and allow ourselves to be filled with the love of Jesus so much that His love spills out of us to one another, that people would say of us, "O how they love each other".
May the love of the Christ Child fill you this Christmas. May His love flow out of you to the world around you. May His blessing and love be upon you and on those you love. Have a blessed and merry Christmas.
Blessings in Christ,
Rt. Rev. Larry Robertson, DD
Bishop of Yukon