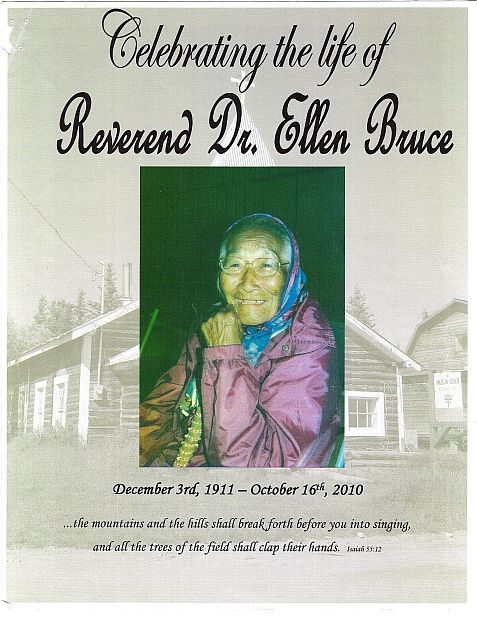 Saint of the Month
A Saint is referred to in the Bible as someone who believes and follows Jesus. Historically a Saint is a special person of note who has served God in a very significant way. The Churches honour the person and his/her dedication to God. Anglicans do not make Saints like the Roman Catholic Church does. We do however wish to honour and remember those who have served God in the past. In this column you will learn about the Saints of long past as well as Saints of the Yukon. Alongside a short biography there will be prayers and readings if your Church would wish to learn of this Saint of God and a suggested date to do this. It is also hoped that these reading would encourage small groups of people to gather to learn and discuss our rich heritage and history in the Church and in the Yukon.
Saint of the Month - March
Ellen Bruce (1911 - 2010)
Ellen Bruce was born in Rampart House in 1911.Her early years were spent living nomadically following the caribou with her family. As a young child she learned to read Tukudh and to conduct church services from her father (Joseph Kay). Her grandfather knew Archdeacon Robert MacDonald.
In 1928, a First Nation minister, Julius Kendi, came to Old Crow with his wife. It was through the Women's Auxiliary that Bruce became involved in the church. She continued her nomadic lifestyle, only coming to Old Crow for supplies or to celebrate religious holidays.
She moved permanently to Old Crow in 1949 and she began to be more involved in the Church. After her father died in 1972 she began to take on more serious responsibilities. In the early 80s, Bruce, along with Edith Josie, Effie Linklater and Charlie Peter Charlie were licensed as lay readers. In 1984, she was ordained a deacon. She became an ordained priest in 1987 at the encouragement of Bishop Ferris. Bruce was the first ordained First Nations woman in the North in the Anglican Church.
Bruce was nominated for an honorary Doctor of Divinity degree from St. Stephen's College in Edmonton. She was accepted and flew to Edmonton in 1986 to receive her degree. The Up Here magazine January/February 1988 edition said "Her ministry is a labour of love." Don Sax, who co-nominated her for the degree, wrote in the July 6, 1989 edition of Western People, "Her ministry is a matter of being, not doing." She was a social centre of Old Crow. She visited with everyone she saw. Bruce often held services in English and the Gwich'in language.
On October 25th, 1990, it was announced that Ellen Bruce was awarded the honour of becoming a Member of the Order of Canada. The citation read "The spiritual leader of Old Crow and the North's first native woman to be ordained an Anglican minister, she has sustained and promoted the cultural integrity of the Vuntut Gwitch'in for over 50 years, helping them adapt from camp life to community life. She was a strong and holy woman who has a powerful impact on natives and non-natives alike." Bishop Larry Robertson writes, "When one entered into her presence you knew you were meeting with someone who radiated the presence of the loving Father. It was like becoming young again looking into the eyes of someone who was at peace in the presence of the Almighty and so much bigger spiritually then myself. It was an honour to know her and sit under her ministry." Ellen Bruce died October 16, 2010 at 98 years old.
If you wish to remember her life in church as a servant and saint of God the following is appropriate.
Sentence
I have called you friends, says the Lord; for all that I have heard from the Father I have made known to you. John 15.15
Or
How beautiful on the mountains are the feet of those who bring good tidings, who publish salvation. Isaiah 52.7
Collect
God of love,
shepherd of your people,
we thank you for your servant The Rev. Dr. Ellen Bruce,
who was faithful in the care and nurture of your flock.
Taught by the example of her holy life,
may we by grace grow into the full stature
of our Lord and Saviour Jesus Christ,
who lives and reigns with you and the Holy Spirit,
one God, now and for ever.
Prayer over the Gifts
Shepherd of Israel,
your flock is never without care.
Accept our grateful offering
and grant that your Church
may always rejoice in faithful pastors
who are servants of Christ and stewards of your mysteries.
We ask this through Jesus Christ our Lord.
Prayer after Communion
Father,
we thank you for your servant Ellen Bruce,
in whom we see the loving service of Christ.
May we who receive these holy mysteries
be faithful in the ministry to which you call us,
through your Son Jesus Christ our Lord.