The Bishop's School of Yukon Ministries (BSYM) is the vehicle by which all training and professional development occurs within the Diocese of Yukon. The BSYM along with the Ministry of Presence is helping meet the challenges that face the Anglican church in Yukon.
Workshops and conferences fall within this framework. In the past we have conducted healing ministry, mission and outreach, prayer, evangelism and mentoring workshops, to name a few. See photos of Bishop's School in Dawson/Moosehide, Yukon: August 5-7, 2011.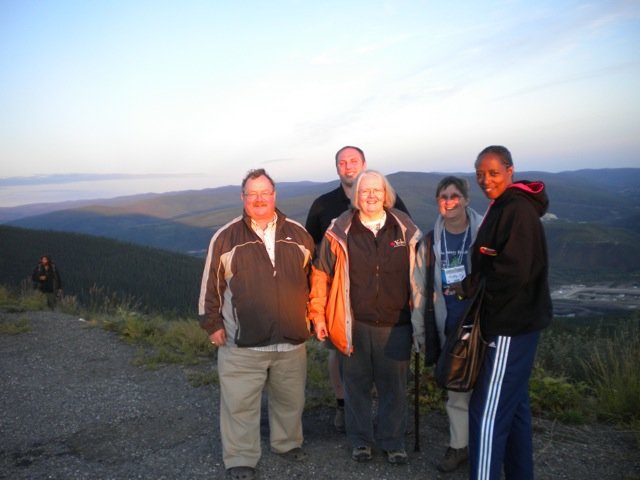 In addition to coordinating workshops, BSYM works within the various parishes and communities to assist our priests to be equippers. We recognize that given the vast distances and the inability of people to be away from their communities for lengths of time, a different approach to training is needed.
We have chosen mentoring as the best model for training delivery of training. It is accomplished within the community setting, proceeding at the pace of the individual learner. Mentoring is the deliberate pairing of a more skilled or experienced person with a lesser skilled or experienced one, with the agreed upon goal of having the lesser skilled person grow and develop specific skills.
As we think about equipping others in our Diocese, this means pairing our priests with deacons, lay ministers or persons interested in developing their ministry skills. It also could involve lay leaders mentoring new lay leaders at certain levels of learning. To ensure equity, we may pair people in one parish with someone in another. Currently all our priests are acting as mentors to one or more persons in the Diocese.
We have identified fourteen fields of study for those providing leadership in our Diocese.
Fields of Study
Bible
Church administration
Church history
Pastoral care
Doctrines and creeds
Homiletics
Prayer books
Methods of catechesis
Conducting public worship
Ministry of the Holy spirit
Canons of the church
Evangelism
Ethics
Youth ministry
Not everyone will have an interest in all of these. Some may only be interested in learning about one or several of these. Some may not be interested in taking on a leadership position, but are interested in personal growth in particular areas.
But it is expected that those interested in leadership have some working knowledge in all of these areas; lay ministers have more knowledge; deacons have still more knowledge and priests have a great depth of knowledge in these areas.
How people get the knowledge will be different. For some people, reading a book (or chapters of a book) is helpful, for others listening to an audio tape or watching a video is useful and for others watching and participating with an expert is best. All of us have different ways of learning and the BSYM tries to accommodate everyone.
Part of the role of the coordinator of BSYM is to develop an individualized learning plan for those who study. The coordinator will help to set up the course of study with the mentor and person being mentored, supply materials and work with the priest, if needed. If problems occur, the coordinator can be involved to assist in resolution. The specific role of the coordinator of the BSYM is as outlined in Diocese policy.
The person being mentored has a number of responsibilities for their own learning. They come to the table to participate in a conversation. Both the mentor and person being mentored agree to a covenant regarding expectations of each.
Informal evaluations indicate the persons being mentored are progressing on their plans and are very satisfied with the process. As well, the method appears to be productive and is meeting the goals of the program. As of this point in time, 14 persons are studying through BSYM in the various communities.
For more information: Contact Diocese of Yukon